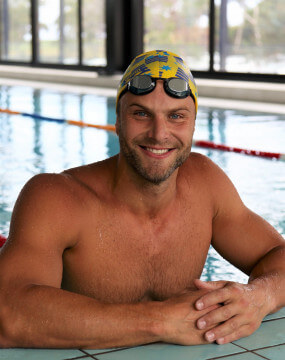 Andrew is a talented sportsman and as a junior played in the Victorian state football team and also represented Australia at baseball. He stopped both sports at the age of 16 to concentrate on swimming.
Andrew qualified for his first Australian Open team while still in Year 12 at BGS. After finishing school, and narrowly missing out on making the 2004 Athens Olympic team, Andrew's commitment to swimming intensified and in 2006 moved to the Gold Coast to follow his coach. He enrolled at Griffith University to study business. His goal was to swim at the Olympics.
Andrew achieved his goal, representing Australia at the 2008 Beijing Olympics, swimming both freestyle and butterfly. So successful was Andrew he brought home three medals; a silver medal in the 4 x 100m medley  relay (butterfly leg) and a bronze medal in both the 100m butterfly and the 4 x 100m freestyle relay.
In the lead up to winning bronze in the 100m butterfly, Andrew swam a personal best and set an Australian record in each of the three stages and qualified for the final with the third fastest qualifying time. He took bronze in the final with a time of 51.12 seconds in a race where US superstar Michael Phelps won his 7th gold medal of the Games.
Following the Olympics, Andrew moved to the NSW Institute of Sport. He set a national 50m butterfly record, at the 2009 Australian Swimming championships. At the World Championships in Rome later the same year, Andrew won bronze in the 4x100m medley and swam 5th in the 100m butterfly.